Posted from the Press-Enterprise
Written by Staff Writer Dayna Straehley
dstraehley@pe.com ORIGINAL POST HERE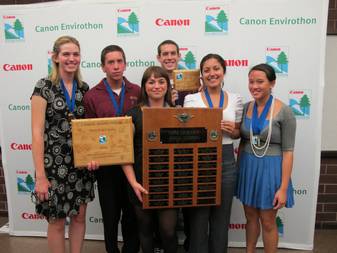 Arlington High School's 2009-10 Envirothon team, from left, Kristen Treat, Cory Davis, Alexis Wood, Elijah Kenan Elizabeth Murry and alternate Ashley Pham accept their awards for the Canon Envirothon Competition for North America in 2010. Six members of the Riverside school's 2012-13 will attend a groundwater workshop for teachers at Western Muncipal Water District. 
Six members of Arlington High School's Envirothon Team plan to attend the American Ground Water Institute Conference at Western Municipal Water District in Riverside on Thursday and Friday, Nov. 8-9.
The current high school team members are Jackie Duenas, MaryJo DeSilva, Cassidy Rungo, Olivia Wilbur, Christian Farmer and Areya Taheri.
This is the first time students have attended the Ground Water Institute, a free professional training workshop for teachers, now in its eighth year, said water district spokesman Matthew Buck.
The conference is from 4 to 8 p.m. Thursday and 8 a.m. to 4 p.m. Friday at Western Municipal Water District Operations Center, 16451 El Sobrante, Riverside.
The two-day conference provides teachers in Riverside County with an opportunity to explore various aspects of science as it relates to groundwater. Water science and water management experts from the water industry and government agencies will provide demonstrations, lectures, hands-on activities, curriculum demonstrations and field trips to give you the full California groundwater picture.
The principal objective of the Institute program is to show the applications of science to practical water resources issues and to encourage teachers to integrate basic hydrologic concepts into their lesson plans.
One of Arlington High School's two Envirothon teams won the North American Canon Envirothon Competition in 2010. The competition helps high school students learn about natural resource management. The students solved environmental problems in aquatics, forestry, soils, wildlife and groundwater that year.